Open statement: Europe Converging towards 5G-V2X Including Direct Communications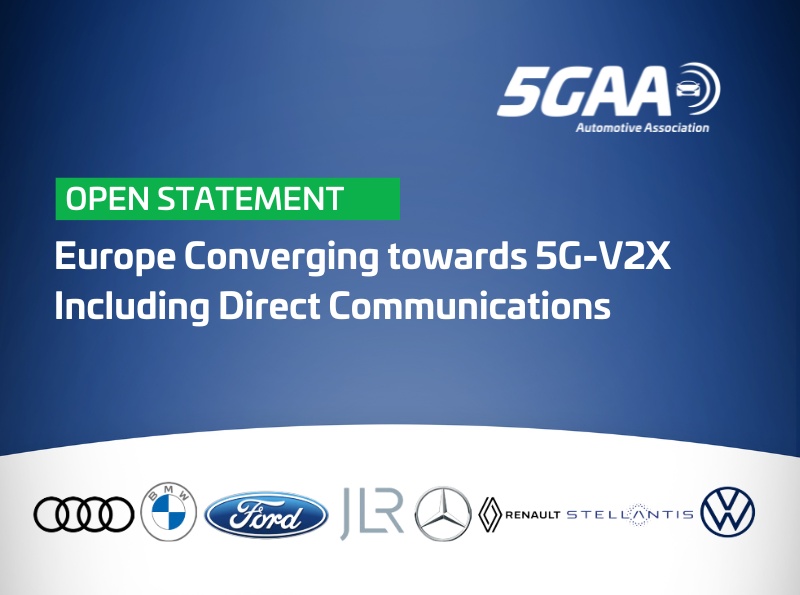 Ready to move forward with state-of-the-art technology, the major European carmakers, representing jointly over 70% market share, want to demonstrate their commitment to bridging differences and working together towards the widespread adoption of 5G-V2X.
With this initiative and recognising the need to strike a consensus, 5GAA and its members have charted a unified path forward for Europe in an open letter to policymakers, regulatory bodies, and industry players. The 5GAA announcement echoes the recently published position of the French Automotive Industry representative body (Plateforme Automobile – PFA, representing also 5GAA members like Renault, Stellantis and Valeo) designating 5G-V2X as the technology of choice for V2X direct communication.
Find the complete letter here.
About 5GAA
The 5G Automotive Association (5GAA) is a global, cross-industry organization of over 120 members, including leading global automakers, Tier-1 suppliers, mobile operators, semiconductor companies, and test equipment vendors. 5GAA members work together to develop end-to-end solutions for future mobility and transport services. 5GAA is committed to helping define and develop the next generation of connected mobility, automated vehicle, and intelligent transport solutions based on C-V2X. For more information, visit our website.
Media Contact
Raluca Tarcea
Communications Manager