Press Release: Automotive Giants at 5GAA Unite around the Future of Connected Mobility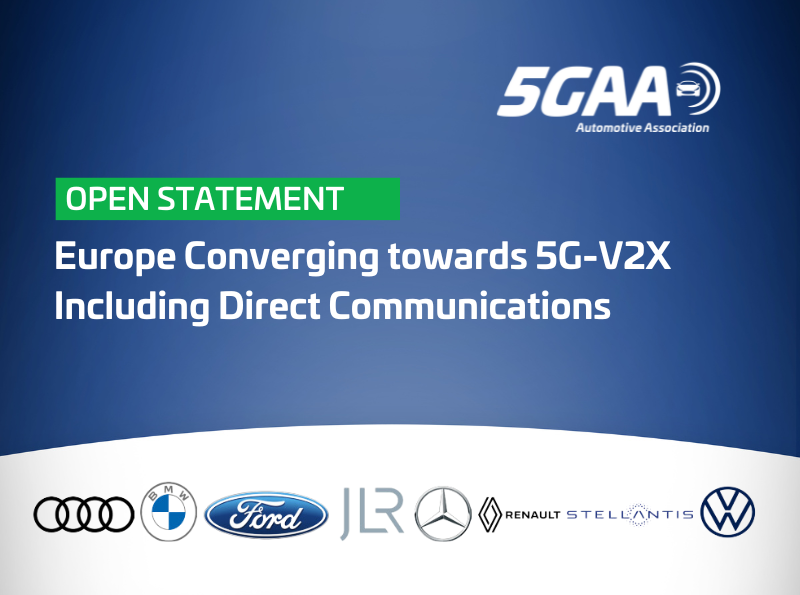 Brussels, 28 September 2023– 5GAA announces a ground-breaking initiative to give new impetus to connected cars in Europe, based on 5G-V2X technology including direct communications, moving beyond past technology disputes.
Ready to move forward with state-of-the-art technology, the major European carmakers, representing jointly over 70% market share[1], want to demonstrate their commitment to bridging differences and working together towards the widespread adoption of 5G-V2X.
5G-V2X includes 5G-V2X mobile network communications (already deployed in vehicles since 2021 on our roads), complemented with 5G-V2X direct communications. 5G-V2X will provide essential and advanced connected car services, enhancing road safety, especially for vulnerable road users, decreasing traffic congestion, and improving overall mobility efficiency and driver comfort.
Following the provisional deal between the Council and the Parliament in June 2023 on the revision of the Directive on Intelligent Transport Systems (ITS)[2], 5GAA looks forward to the EU institutions adopting the final text as soon as possible. The revised Directive will give the industry the necessary legal certainty to invest in 5G-V2X direct communications deployment, as it explicitly acknowledges technology neutrality.
The letter highlights the need for convergence and action to break the current stalemate and reposition the European Union in the global race for automotive connectivity as other world regions are making swift progress.
"By pledging their commitment to this open letter, leading OEMs demonstrate their commitment to bridging differences and working together towards the widespread adoption of 5G-V2X technology, the second generation of V2X technologies. This collective marks a pivotal starting point in Europe's "race to 5G-V2X" spearheaded by 5GAA and its members. Extensive efforts are underway to tackle the technical and regulatory challenges that impede the timely deployment of 5G-V2X, aligning with the 5GAA roadmap"

Christoph Voigt, Chairman of the 5GAA Board and Head of R&D Connectivity at Audi.
With this initiative and recognising the need to strike a consensus, 5GAA and its members have charted a unified path forward for Europe in an open letter to policymakers, regulatory bodies, and industry players. The 5GAA announcement echoes the recently published position[3] of the French Automotive Industry representative body (Plateforme Automobile – PFA, representing also 5GAA members like Renault, Stellantis and Valeo) designating 5G-V2X as the technology of choice for V2X direct communication.
---
Our Member Vehicle Manufacturers Quotes
BMW is dedicated to investing in research and development to further harness the potential of 5G-V2X technology. By supporting the adoption of 5G-V2X technology, we aim to create a connected ecosystem that enhances the overall driving experience and contributes to a greener and smarter future.

Nicolai Kraemer, Vice President Connected Vehicle Platforms, BMW.
We look forward to the next steps the industry is taking for the broader deployment of technology to help enable a future where vehicles can 'talk' to similarly equipped vehicles, devices and road infrastructure which has the potential to help provide safer and more enjoyable on-road experiences.

Andre Welch, Director of Government Relations, Ford Motor Company.
JLR is committed to C-V2X delivery within its new generation of vehicles and fully supports 5GAA's letter promoting European implementation of C-V2X.

Murray Paul, Director of Public Affairs, JLR
Renault's approach to safety and substantial investments in safety-related R&D illustrates its transition from a traditional car manufacturer to a leading mobility services and tech company.

Arnaud Belloni, VP Renault Brand, Global Marketing
Renault's safety vision within Human First program goes beyond designing safe cars. Renault is striving for technological advancements and driving innovation towards keeping everybody safe on the roads.

Katrin Matthes, Renault Software & System VP Innovation and Technology
Stellantis in pursuing its Dare Forward 2030 strategy encompassing the technology evolution for the connected and autonomous vehicle.

Francesco Lilli, Stellantis Global Head of Advanced Connectivity
5GAA V2X roadmap draws a common direction to enable on a global basis an efficient and safe mobility.

El Khamis Kadiri, Stellantis Connectivity & EE Expert
Media Contact
Raluca Tarcea
Communications Manager, 5GAA
raluca.tarcea@5gaa.org
---
[1] ACEA Passenger Car Registrations 2022, January 2023
[2] Council and Parliament strike a deal on the roll-out of intelligent transport systems, 08 June 2023
[3] https://pfa-auto.fr/wp-content/uploads/2023/07/PTF_V2X_short-range-radio-technology-choice_2023.pdf