5GAA Welcomes the European Parliament's Adoption of a Forward-Looking ITS Directive Revision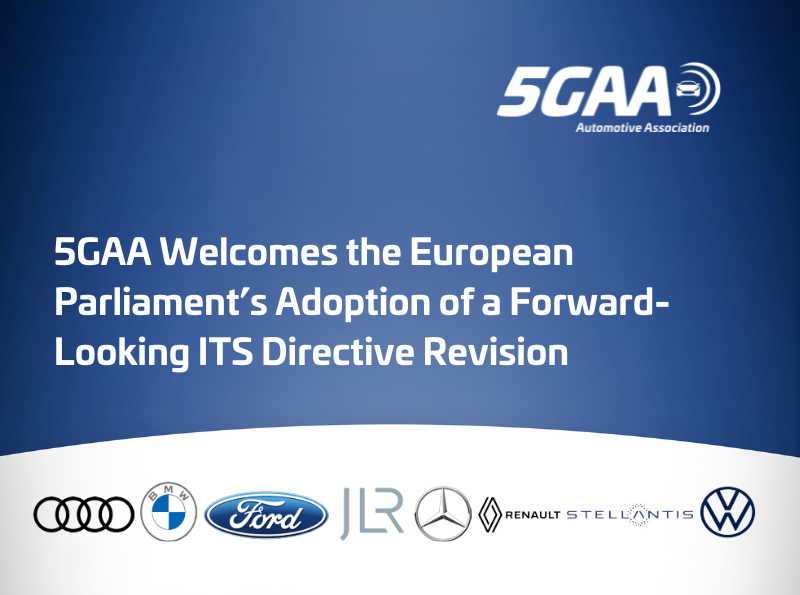 Earlier today, Tuesday 3rd October, the European Parliament by an overwhelming majority voted to approve the ITS Directive Revision. 5GAA commends policymakers and rapporteur Plumb for the adoption of a forward-looking ITS Directive that promotes technological innovation, and ultimately, the large-scale deployment of intelligent transport systems across Europe. We now encourage the Council of the EU to swiftly approve the text.
5GAA further welcomes the recognition of the technology neutrality principle, now enshrined within the ITS Directive. This principle now guarantees a focus on service delivery, providing a level playing field and the opportunity to reposition the European industry in the global race for automotive connectivity.
As underlined in 5GAA's recent open statement, the industry, including the major European carmakers, is moving beyond past technology disputes to converge towards 5G-V2X, including direct communications, as the future reference technology for automotive direct connectivity and an important enabler of automated driving.
This commitment, combined with the adoption of the ITS Directive, will give new impetus to connected cars in Europe. As per the 5GAA Visionary 2030 Roadmap, 5G-V2X is expected to be mass-deployed in commercial vehicle models starting from the time horizon 2026-2029
The European Commission will have 12 months from the Directive's entry into force, to consult the European ITS Advisory Group and relevant stakeholders to adopt a working program through an implementing act. 5GAA stands ready to contribute to the elaboration of the new ITS Work Programme.
We look forward to continuing the collaboration between EU institutions and industry to make cooperative, connected and automated mobility a reality for a smarter, safer and more environmentally friendly European transport ecosystem. 
About 5GAA
The 5G Automotive Association (5GAA) is a global, cross-industry organization of over 120 members, including leading global automakers, Tier-1 suppliers, mobile operators, semiconductor companies, and test equipment vendors. 5GAA members work together to develop end-to-end solutions for future mobility and transport services. 5GAA is committed to helping define and develop the next generation of connected mobility, automated vehicle, and intelligent transport solutions based on C-V2X. For more information, visit our website.
Media Contact
Raluca Tarcea
Communications Manager