5GAA Welcomes the Most Recent FCC Action to Permit C-V2X Deployments in Additional US Jurisdictions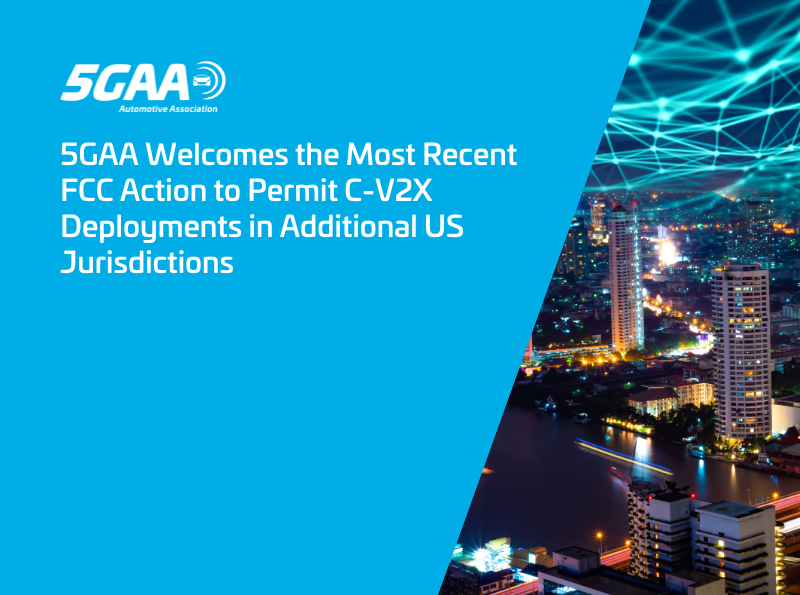 The 5G Automotive Association (5GAA) welcomes the Federal Communications Commission's (FCC) decision to authorize initial deployments of Cellular Vehicle-to-Everything ("C-V2X") technology in the 5.9 GHz band to 17 entities, including 12 State Departments of Transportation (DOTs), Macomb County, City and County of Denver and to the University of Michigan.
"We have been eagerly waiting for this second FCC action to grant these 17 entities permission to deploy life-saving C-V2X technology in the United States, including the University of Michigan, which is also one of our members," said John F. Kwant, Executive Director, Americas, for 5GAA. "This action extends the geographical jurisdiction for C-V2X deployment and represents a key milestone to achieve widespread deployment of this state-of-the-art vehicle safety technology."
In December 2021, a group of automakers, state departments of transportation, and equipment manufacturers jointly filed a Waiver Request asking the FCC to waive its 5.9 GHz band rules to permit them to immediately deploy C-V2X technology. Following this joint filing, more than 17 entities requested waivers under the same conditions.
About 5GAA
The 5G Automotive Association (5GAA) is a global, cross-industry organization of over 120 members, including leading global automakers, Tier-1 suppliers, mobile operators, semiconductor companies, and test equipment vendors. 5GAA members work together to develop end-to-end solutions for future mobility and transport services. 5GAA is committed to helping define and develop the next generation of connected mobility, automated vehicle, and intelligent transport solutions based on C-V2X. For more information, visit our website.
Media Contact
Raluca Tarcea
Communications Manager