5GAA to participate in the ITS World Congress 2022 in Los Angeles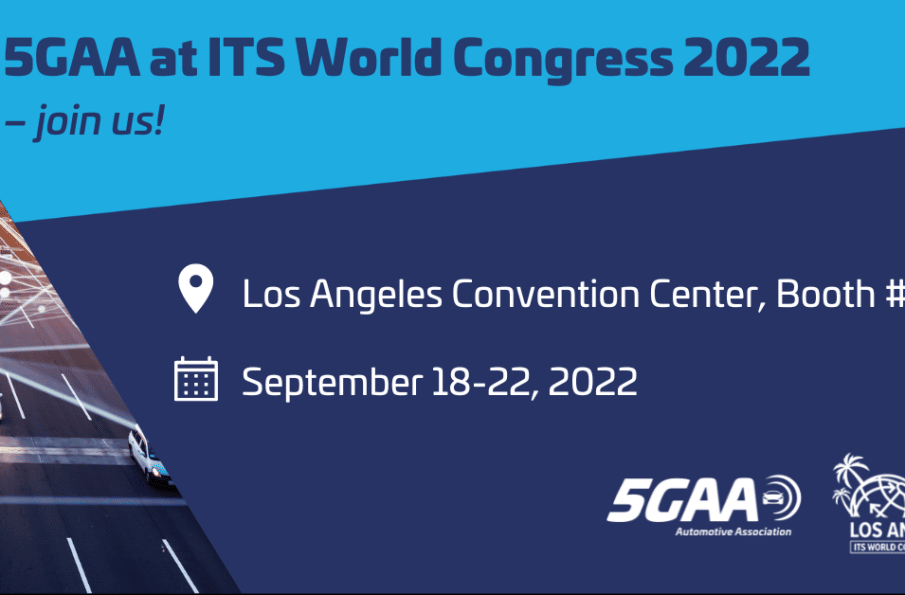 The 5G Automotive Association (5GAA) will again join the ITS World Congress, the global flagship event for intelligent transportation systems, taking place in Los Angeles from September 18 to 22. This occasion will bring together policymakers, researchers, and industry representatives from all over the world to explore this year's central theme, "Transformation by Transportation". 
The ITS World Congress is coming back to the United States and gathering the entire mobility ecosystem to provide all attendees with an exciting opportunity to discover, connect, and learn. The 5G Automotive Association is pleased to join; to that end, the team has curated a comprehensive programme for the kick-off day – Monday, September 19. 5GAA's initiatives are set to bring journalists, industry members, public authorities and road operators closer to the association's work and the latest advances of our members in C-V2X technologies. 
5GAA's plans at the ITSWC include:  
Showcasing our latest developments at the 5GAA booth, #419, in the main Exhibit Hall

 

Scheduling 1-to-1 meetings with our experts to discuss industry progress, innovation developments and members' technology advances

 

Guided tours for media, industry, and government officials
Holding two speaking sessions at the Education Hall in collaboration with our members

 
Join our Guided Tours
On September 19, from 11 AM to 12 PM (PDT), 5GAA will host a Press Tour, led by journalist Brian Maguire. It includes scheduled visits to some of the association's members, like Continental, Intel, Nokia, Commsignia and more, who will hold demos at their booths to showcase their latest C-V2X advancements. Our members' representatives will be available to address media questions after the demonstrations.   Registrations are open here.
At the same time, we encourage industry stakeholders and government officials to register for their respective tours, taking place on September 20 between 9.30 AM and 11.15 AM (PDT), which will follow the same order.
5GAA Speaking Session at ITSWC2022
The "Connected Driving: C-V2X on the Road" conference will also take place on September 19 from 1 to 3 PM (PDT) at the Education Hall, featuring two panel discussions with top-level guests: 
1. C-V2X for Safety Services 
Today's C-V2X safety services, such as traffic signal pre-emption and road hazard information, save lives. Our panel will cover the importance of the 30 MHz allocation in the U.S. for current usage, but also the need to secure 40 MHz additional spectrum for advanced V2X safety services.
2. Mobility Benefits
V2X deployment is advancing globally, enabling the creation of unprecedented information to aid Traffic Management and Operations. The emergence of C-V2X supports widespread deployment of mobility services, and represents a win-win for traffic operations, industry, and, most importantly, people/  
Register here for the conference, or book a 1-to-1 meeting with a 5GAA representative. 
Side activities: 5GAA CTO and members' panels 
September 18, 1 to 4.30 PM PDT – Digital Infrastructure Workshop, sponsored by Qualcomm, with Maxime Flament (5GAA)
September 21, 10 to 11.30 AM PDT – "Findings of Original Equipment Manufacturers Deployment into a Connected Vehicle Deployment" session, with Aaron Weinfield (DENSO)
September 21, 1 to 4 PM PDT – "5G Connectivity" workshop, with Maxime Flament (5GAA), Coen Bresser (ERTICO/ITS Europe), Ralf Weber (Qualcomm), Julia Rainer (Audi AG).
---
For any questions about our plans at the ITS World Congress, don't hesitate to contact the Marcom team at marcom@5gaa.org.