Turning Connected and Safe Mobility into Reality: 5G Automotive Association to Attend GSMA's MWC Barcelona 2022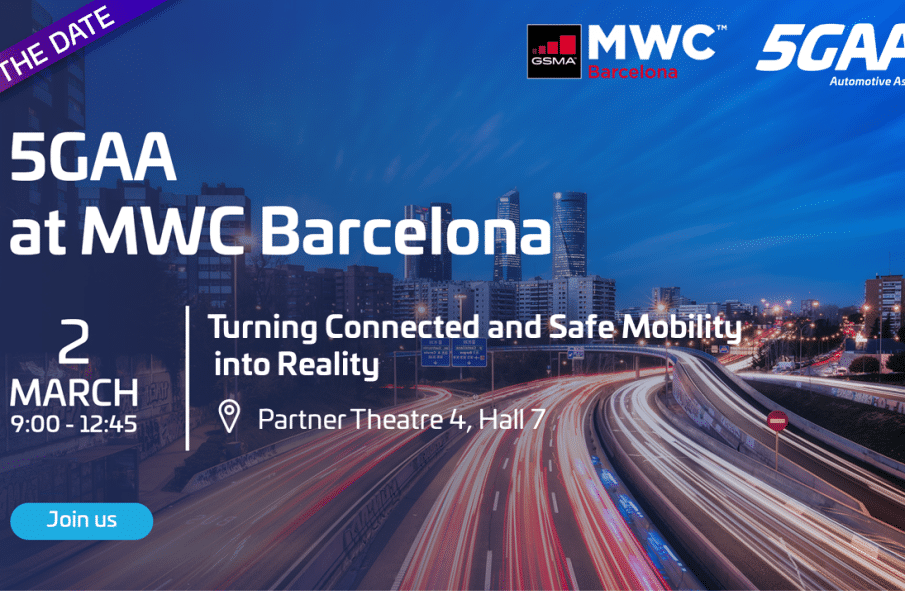 BARCELONA, 24 FEBRUARY 2022 – The 5G Automotive Association (5GAA) will present the latest global advancements of 'Cellular-Vehicle-to-Everything' (C-V2X) in the journey towards 5G-V2X on 02 March 2022 at GSMA's Mobile World Congress Barcelona 2022. The 5GAA conference will gather senior executives to bring perspective on how C-V2X revolutionises the driving experience to make mobility smart, safe and sustainable, as C-V2X powered vehicles are now hitting the market in Europe and beyond. Journalists are invited to join our media tour of 5GAA members' booths to exchange with experts and witness the latest technology developments.
This year, the 5G Automotive Association will be back at the Barcelona edition of the Mobile World Congress to address today's mobility key challenges.
The association will hold a "Turning Connected and Safe Mobility into Reality" conference on Wednesday 02 March 2022 at 09:00am-12:35pm CET (Theatre 4, Hall 7).
Senior executives from automotive and telecommunications member companies (including China Mobile, Continental, Deutsche Telekom, Harman, Huawei, Intel, Qualcomm, Telefónica, Verizon, ZTE and more) will offer their perspective on C-V2X global market landscape and technology evolution towards 5G-V2X.
A networking lunch is foreseen 12:15-01:00pm CET.
To get prime access to C-V2X industry experts and latest demonstrations of the technology, 5GAA is calling on journalists and industry experts to join the 5GAA tour taking place on 02 March at 02:00-03:00pm.
The onsite tour will explore the evolution of automotive connectivity for the purposes of enhanced road safety, improved traffic efficiency, greener environmental impact and more comfortable driving alongside members such as Anritsu, Deutsche Telekom, Intel, Qualcomm, Rohde & Schwarz and ZTE.
Europe is keen to play a leading role in future developments, in close collaboration with policymakers and road authorities, and 5GAA is uniquely placed to support C-V2X advances as it unites cross-sector players in this field.
To book your seat at the 5GAA conference or networking lunch, please register your interest here. If you are interested in joining the press and industry tour, please send an email to marcom@5gaa.org.