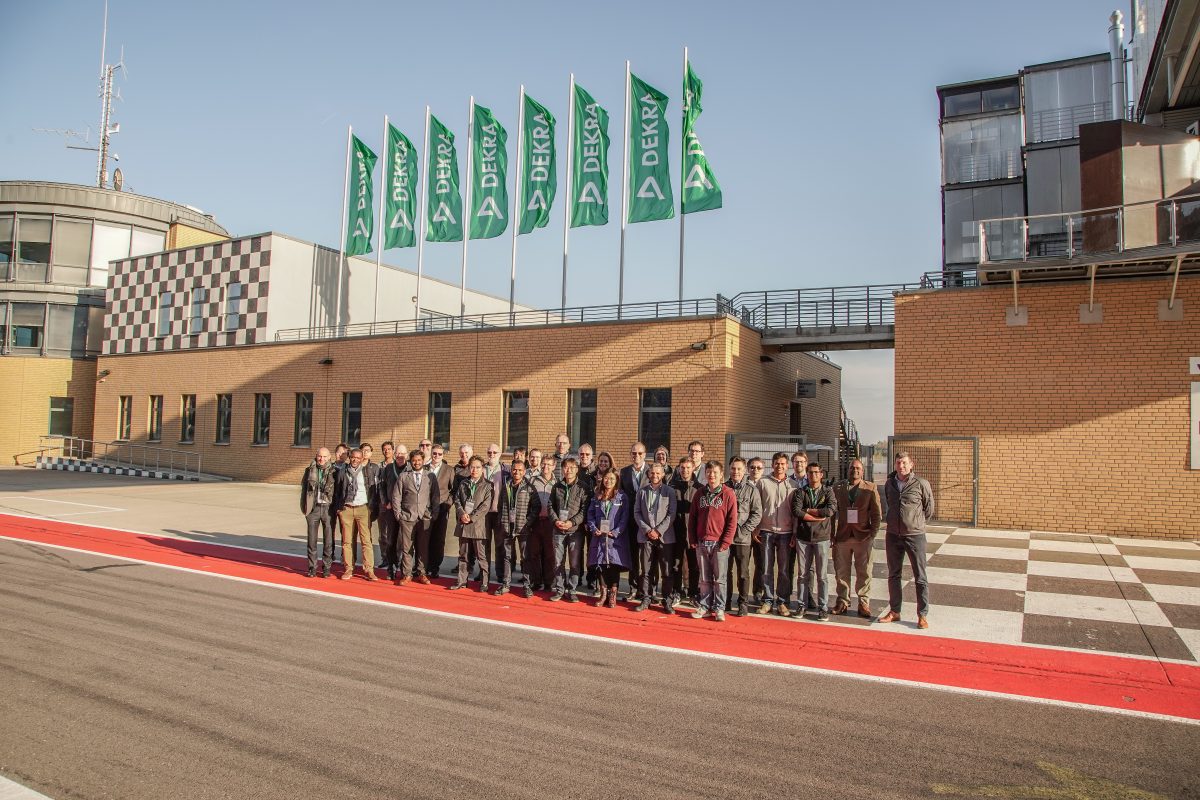 15/04/2019
5GAA C-V2X testing event in Europe successfully demonstrates exceptional level of interoperability
KLETTWITZ, GERMANY, 15 April 2019 – 5GAA announced today that multiple technology providers of Cellular-V2X (C-V2X) have achieved successful results showing multi-vendor interoperability. Companies from across the global 5GAA community came together in Klettwitz, Germany, last week to conduct multi-vendor C-V2X interoperability tests at the automotive proving ground of host and 5GAA member DEKRA, a global leader in automotive safety testing. 
The event demonstrated a high-level of interoperability across all participating companies with 96% of the 249 C-ITS safety test-cases successfully communicated based on both the ETSI ITS specifications and IEEE/SAE ITS standards for vehicle-to-vehicle (V2V) and vehicle-to-infrastructure (V2I) use cases. As a result, the event validated the automotive industry's maturity to support the commercial deployment this year of C-V2X solutions throughout the world, with both infrastructure and onboard units.
"Interoperability tests represent a unique opportunity for C-V2X vendors to refine their software implementation. This event has shown very satisfying results and prove the technology readiness of the radios," stated 5GAA CTO Maxime Flament.
Samsung's (Harman) leadership within 5GAA as rapporteur was vital in bringing together many of the foremost automotive C-V2X companies and their commercial C-V2X solutions and test equipment from across the globe including Cohda Wireless, Commsignia, Huawei, Qualcomm Technologies, Keysight Technologies, Rohde & Schwarz, Savari, WNC and Vodafone Automotive. Ford, LG Electronics, Neusoft and Sumitomo Electric also attended the event.
Trilateral Interoperability
The event showcased multi-vendor interoperability testing by utilizing commercial C-V2X chipset products from Harman, Huawei and Qualcomm Technologies, marking an important milestone.
The week was viewed as highly successful by all participants, as it brought together many of 5GAA's C-ITS experts for testing and to validate that C-V2X products are both mature and commercially available today for the cooperative, connected and automated mobility ecosystem.
"I'm delighted that the positive results obtained at the 1st European 5GAA C-V2X Interoperability Test derive from the effective collaboration of global players. With our V2X stack we are now amongst the small group of companies worldwide that are ready to deliver state of the art services in connected, cooperative and digital mobility," said Gion Baker, CEO Vodafone Automotive.
"DEKRA has been delighted to host this historical 5GAA C-V2X interoperability event.  We are very proud to be part of this important development contributing with our technical expertise and unique testing capabilities," stated Fernando E. Hardasmal, Executive Vice President and Head of the Service Division Product Testing.
"It was a pleasure to support 5GAA in testing C-V2X from radio frequency to region specific ITS applications, forming the basis for interoperability and conformity assessment in a global market," said Holger Rosier, Technology Manager at Rohde & Schwarz.
"We believe that C-V2X is a cornerstone technology for connected, assisted, and autonomous driving and for seamless user experiences, and is why Harman has launched 3GPP C-V2X globally in all its commercial telematics platforms from 2019″, said Mike Peters, President, Connected Car division, Samsung (Harman).
"5GAA's C-V2X interoperability event provided an ideal stage to solidify the interworking of various C-V2X solutions, which is essential to realize the full potential of C-V2X," said Ashok Tipirneni, director of product management, Qualcomm Technologies.
"Together with other participating companies, we are confident to have contributed to the worldwide and European C-V2X ecosystem building. This successful Plugfest has shown the readiness of C-V2X products which will be an important ingredient for the advanced connected and automated mobility." concluded William Lu, C-V2X Product Line General Manager, Huawei Technologies.
About 5GAA
The 5G Automotive Association (5GAA) is a global, cross-industry organisation of 115 members comprised of leading global automakers, Tier-1 suppliers, mobile operators, semiconductor companies, test equipment vendors, etc. working together to develop end-to-end solutions for future mobility and transportation services.
5GAA is committed to helping define and develop the next generation of connected mobility for autonomous based on Cellular-V2X (C-V2X), the family of cellular technology-based communications.
C-V2X enables both long-range communications via mobile networks as well as direct short-range connectivity for time-critical information (without subscription or network coverage). C-V2X is currently based on 4G/LTE but offers a clear evolution path to 5G.
Contact
Marketing and Communications Team
Email: marcom@5gaa.org
Web: www.5gaa.org