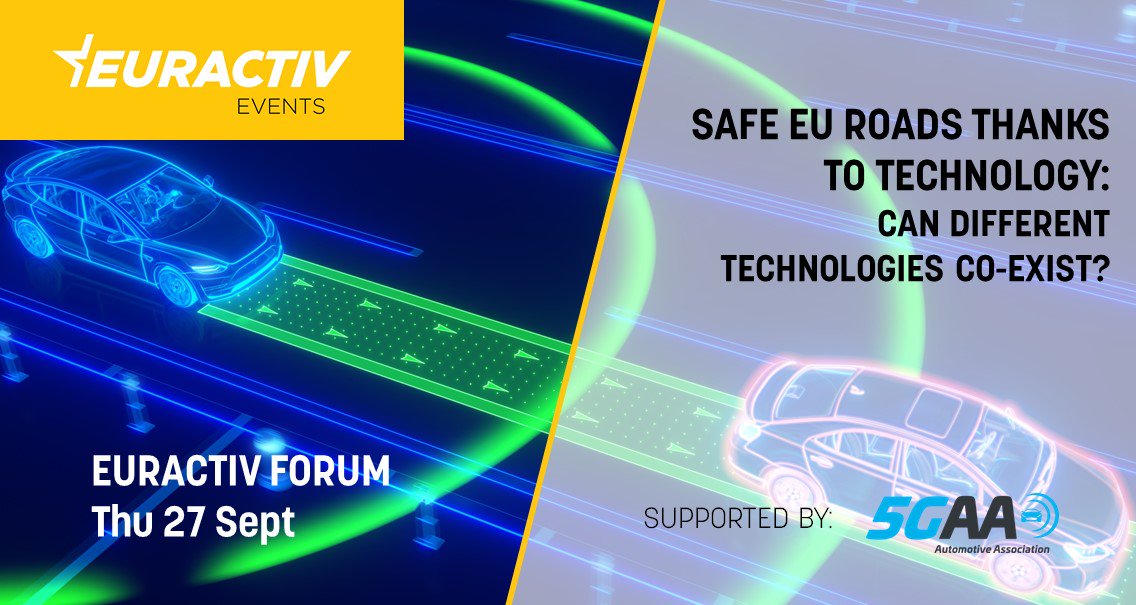 24/09/2018
5GAA and Euractiv to introduce "Safe EU Roads Thanks to Technology" Forum – Brussels, 27 September 2018
On 27 September, the 5G Automotive Association will plunge into the debate on technologies for road safety as it takes part in the Euractiv Forum "Safe EU Roads Thanks to Technology" as an event partner.
The EU aims at being a world leader for fully automated and connected transport systems, making it safer, cheaper and more accessible. In order to reduce the number of lives lost on EU roads, the EU Commission is currently conveying new models of vehicles equipped with advanced safety features. This initiative contributes to the EU's long-term goal of moving close to zero fatalities and serious injuries by 2050.
As the Cellular-Vehicle-To Everything (C-V2X) technology and its evolution to 5G will enable life-saving communications, the forum will be a source of debate further reinforcing the discussion on the subject. The focus will encompass the cost of deploying the C-V2X technology, the path to 5G, the challenges associated with new technologies as well as the regulations ensuing from its development.
As a major association representing more than 100 companies from the automotive and telecommunications industries, 5GAA is proud to foster the debate among relevant stakeholders, driving towards building an enhanced 5G-driven regulated ecosystem.
Join us on Thursday 27 September from 17:00 to 20:00 at the Euractiv Network Office in Brussels and attend 5GAA's CTO Maxime Flament Speech as he opens the Forum.
Register here to attend.