5GAA discusses how C-V2X turns Connected and Safe Mobility into Reality at Mobile World Congress 2022 in Barcelona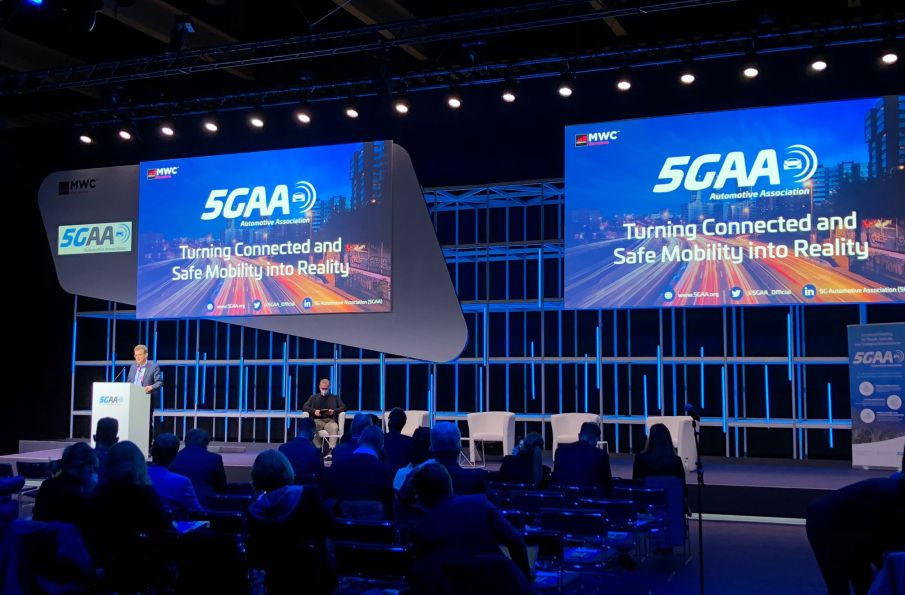 Barcelona, 3 March 2022 – The 5G Automotive Association (5GAA), alongside its members, disclosed the latest global deployments of C-V2X technology, highlighting how 5G data will deeply transform the mobility system by making it safer and more efficient at GSMA's Mobile World Congress 2022 in Barcelona on Wednesday 2 March 2022. 
The 5G Automotive Association was back this year at Barcelona's edition of the Mobile World Congress, the world's leading exhibition for the connectivity industry, to disclose the cellular technology shaping the future of mobility alongside its member.
Today, connected driving is a reality. Over 200 million connected vehicles are equipped with C-V2X applications sharing hazard and traffic warnings on the road. Applied to the automotive sector, 5G is upgrading revolutionary in-car connectivity, allowing seamless and cooperative communication between vehicles, infrastructure, and surroundings.
On 2nd March, 5GAA experts and member spokespersons shared their views on how the deployment of C-V2X technologies is turning connected and safe mobility into reality from now and in the next few years. Moreover, the association had the pleasure to have Peter Stuckmann, Head of Unit, Future Connectivity Systems, DG CONNECT, European Commission, addressing the participants and highlighting the crucial role of investments in 5G and infrastructures to foster the European green and digital transition.
As noted by Johannes Springer, 5GAA Director-General, the association that celebrates its 5th Anniversary has been working intensely to bridge the gap between automotive, technology, and telecom industries and promote the 5G-V2X (vehicle-to-everything) technology as a comprehensive and integrated platform for connected vehicles, embracing digital transformations as opportunities for mobility innovations.
The conference, moderated by Freddie Holmes, Special Correspondent at Automotive World, offered an overview on the broad-scale improvements that connected mobility can bring to the global automotive system, starting with a first session on the 5G-V2X deployment landscape in different regions, such as Europe, China, and the US. Speakers underlined the need for increased ecosystem cooperation and cross-border projects to ensure reliable access to 5G networks to all users. The second session focused on the safety aspects and benefits brought by the technology, including protecting vulnerable road users.
The event concluded with an insightful panel discussion on mobility data, with the participation of representatives from the entire ecosystem value chain. Panellists discussed how smart cities and infrastructure could help make data-driven decisions that inform how we pave the path for the future of mobility and the crucial role of data standardisation and reliability and new business models to foster investments.
The event welcomed, in person or through virtual messages, high-level representatives of 5GAA's member companies Deutsche Telekom, Verizon, China Mobile, Harman, Continental, Telefonica, Qualcomm, BMW, Huawei, Intel , ZTE, Stellantis.
In addition,5GAA hosted a Press & Industry guided tour across the booths of key member companies to share their latest C-V2X technology developments with journalists and industry analysts, focusing on road safety and digital infrastructures.
Companies featured in the tour included:
Deutsche Telekom presented the Automated Valet Parking in a 5G network use case, in partnership with BMW and Valeo, which delivers high reliability and stable latency to ensure the necessary safety requirements. Moreover, the company presented its Mobility Connect solutions, offering drivers 5G seamless connectivity solutions
ZTE Corporation showcased its 5G-V2X products and solutions, including 5G-V2X module, OBU, RSU, V2X cloud platform and other cases
Qualcomm presented its Snapdragon Digital Chassis Platform: a set of technology solutions for building connected and intelligent vehicles that are safer, customisable, immersive and continually upgradeable, and Auto Connectivity Platform to support ubiquitous connectivity in and around the vehicle
Intel with its Superdemo, developed with its partners Capgemini and Advantech for their 5G Road Side Unit solution for Smart City & Transportation use cases focusing on vulnerable users protection Digital Twin infrastructure for sustainable cities
Rohde & Schwarz showcased its 5G and C-V2X solutions for development in the laboratory and verification in the field to ensure the performance and reliability of critical automotive communications
Anritsu presented a joint demonstration in partnership with dSPACE. The demonstration showed the use of 5G Network Slicing in an Advanced Intersection Collision Warning (AICW) use case, using Hardware In the Loop (HIL) test and simulation system to provide a realistic sensor simulation to an OBU that is being tested
We would like to thank all our participants, member companies and speakers, for making it such an insightful event, clearly demonstrated the added value of ecosystem cooperation for the future of the transportation system.
Download the agenda of the event here.
For additional information, please get in touch at marcom@5gaa.org.
Please find the video contribution from Ramaswamy Iyer, Senior Vice-President and Head of Connectivity SBU, Harman that unfortunately, we have not been able to show during the conference due to technical problems.