5GAA Demonstrated C-V2X Technology Applications and Safety Benefits for Road Users last October in Málaga, Spain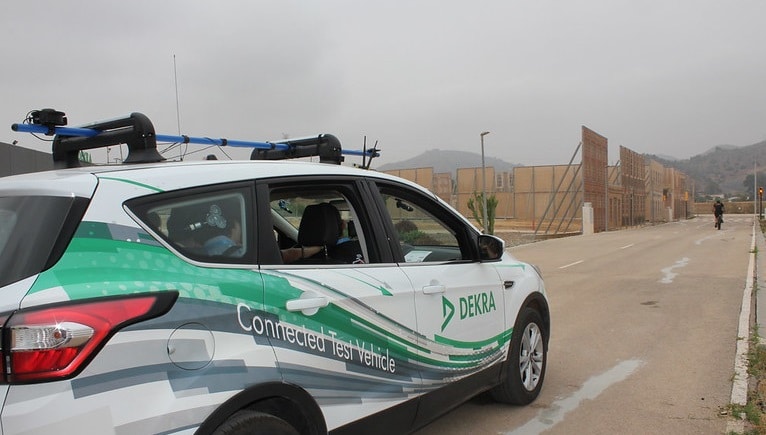 Malaga, 20 October 2022 – C-V2X technology revolutionizes the mobility ecosystem and how drivers interact with the world, making smart cars a reality today. These cars communicate with their surrounding infrastructure, be it other cars or vulnerable road users, while providing a better driving experience. 5GAA is at the forefront of redefining transportation, by providing real-time, reliable, and actionable information flows to enable safety, mobility, and environmental applications.
Sixteen 5GAA members gathered in Malaga on October 20 to showcase ready-to-deploy C-V2X technology and what the future has in store for the industry and vulnerable road user protection. Prominent members and partners of the 5GAA including 5GCroCo, Anritsu, Autotalks, Commsignia, Continental, Deutsche Telekom, Ericsson, Huawei, Intel, Keysight, Molex, Nokia, Rohde & Schwarz, Stellantis, Vodafone and Omniair demonstrated the current state of C-V2X and a wide range of applications for VRU (Vulnerable Road Users) protection, through a range of indoor and outdoor demos. The over 200 attendees included road operators, journalists from national and international media, and 5GAA delegates.
"C-V2X continues to drive the automotive transformation – and is now the new reality," says 5GAA Chairman, Christoph Voigt. "Our key asset, the C-V2X technology, became an important part of the worldwide V2X ecosystem. The live demonstrations we have seen here, in Malaga, show us repeatedly that C-V2X is ready for a future where we can use our current infrastructure to improve protection for vulnerable road users."
Using both direct and mobile network communications, the open-road demonstrations displayed the extensive capabilities of today's C-V2X technology. To name a few:
Protecting vulnerable road users and increasing the safety of cyclists on the road by alerting them of a collision
Enabling smart intersections to enhance VRU safety by sending awareness messages to C-V2X-enabled cyclists
Warning road users of traffic incidents between connected vehicles
The demonstrations were held at the DEKRA Test Track, a private field-testing area dedicated to connected & automated driving in Málaga, Spain. The test track reproduces multiple traffic situations using different V2X communications systems and networks, as well as traffic elements like traffic signs, traffic lights, road cones, pedestrians' simulators that allow setting up various test cases. Located in a restricted area of 51.000 m2 (about twice the area of a parking space) with roundabouts, straight and curved roads, intersections, traffic lights and signalling, this connected & automated driving test track is a state-of-the-art facility that researches, develops, tests, and certifies the mobility of the future.
Together with our members, 5GAA has embraced digital transformation and is creating opportunities for transportation innovation. Its goal is to develop end-to-end solutions for future mobility that improve traffic efficiency, driving comfort and road safety to ensure a secure and sustainable transportation ecosystem.