5GAA and partners discuss C-V2X mass-market deployment in The Hague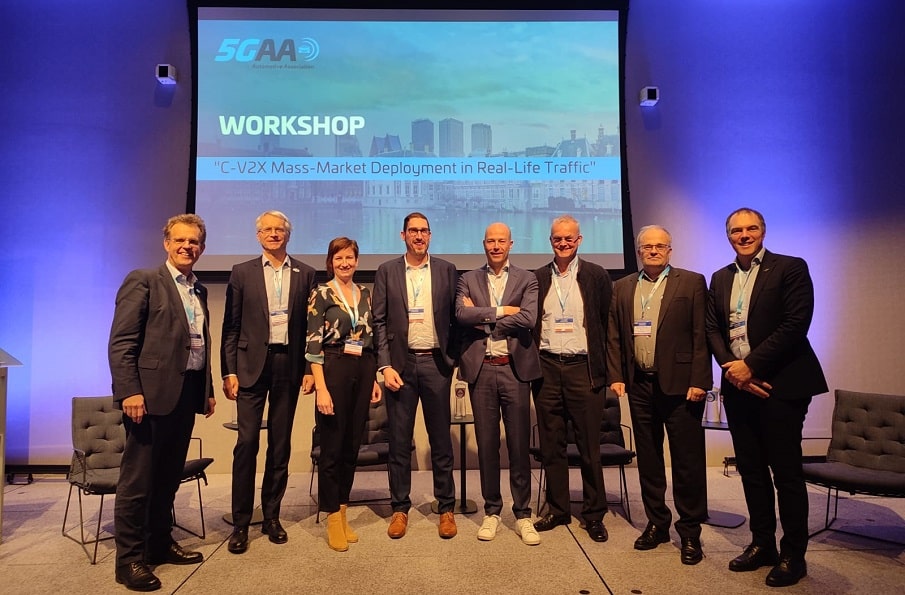 On February 9, to conclude its first meeting week of 2023, the 5G Automotive Association held a workshop on "C-V2X Mass Market Deployment in Real-Life Traffic". Over two sessions, speakers examined connected mobility for road management in The Netherlands and Flanders and the benefits of connected mobility services for end-users.
Continuing a tradition established last year in Atlanta (US) and Málaga (Spain), the 5G Automotive Association capped off its meeting week in The Hague —the first of four to be held in 2023 — with a workshop for members and guests.
The workshop, which took place on the morning of February 9 at the Marriott Hotel in the Dutch capital, gathered delegates and partners for two different sessions featuring representatives from member organisations, public stakeholders, and road operators. 5GAA Director General Johannes Springer was responsible for welcoming attendees, while Vice Chair Uwe Puetzschler delivered the closing speech with an outlook of what is coming for 5G-V2X.
During the first session, participants got an overview of the Netherlands' and Flanders' Connected Mobility Roadmaps from Wim Vandenberghe, Senior Advisor for ITS and CCAM at the Dutch Ministry of Infrastructure and Water Management, and Erika Decorte, Program Manager at the Flanders Authority for Roads and Traffic. Menno Malta, CEO of Monotch, wrapped up the session by delving into the C-ITS ecosystem deployment and architecture.
The second session, on the other hand, explored how end-users are leveraging connecting mobility services. René Spaan, Project Leader for Smart Mobility in the City of Helmond (Netherlands, presented use cases in urban settings. Participants also got to learn more about C-V2X services for emergency vehicles thanks to Gerard Berendschot, Manager of Quality and Policy at the Netherlands' Ambulance Care. Finally, 5GAA delegate Andreas Schaller, Head of V2X Technology at Bosch, introduced the audience to the wrong-way driving application.
After the workshop, the 5GAA Board hosted a close-door roundtable with nine road operators, who received a presentation about the association's new C-V2X roadmap and engaged in some interactive discussions to dive into their priorities, needs, and expectations. This roundtable followed on 5GAA's recent release of its "Conclusions and Recommendations for Communications Service Providers Supporting Road Operator Priorities and Expectations", available here, and a technical report on "Road Operator Use Case Modelling and Analysis."