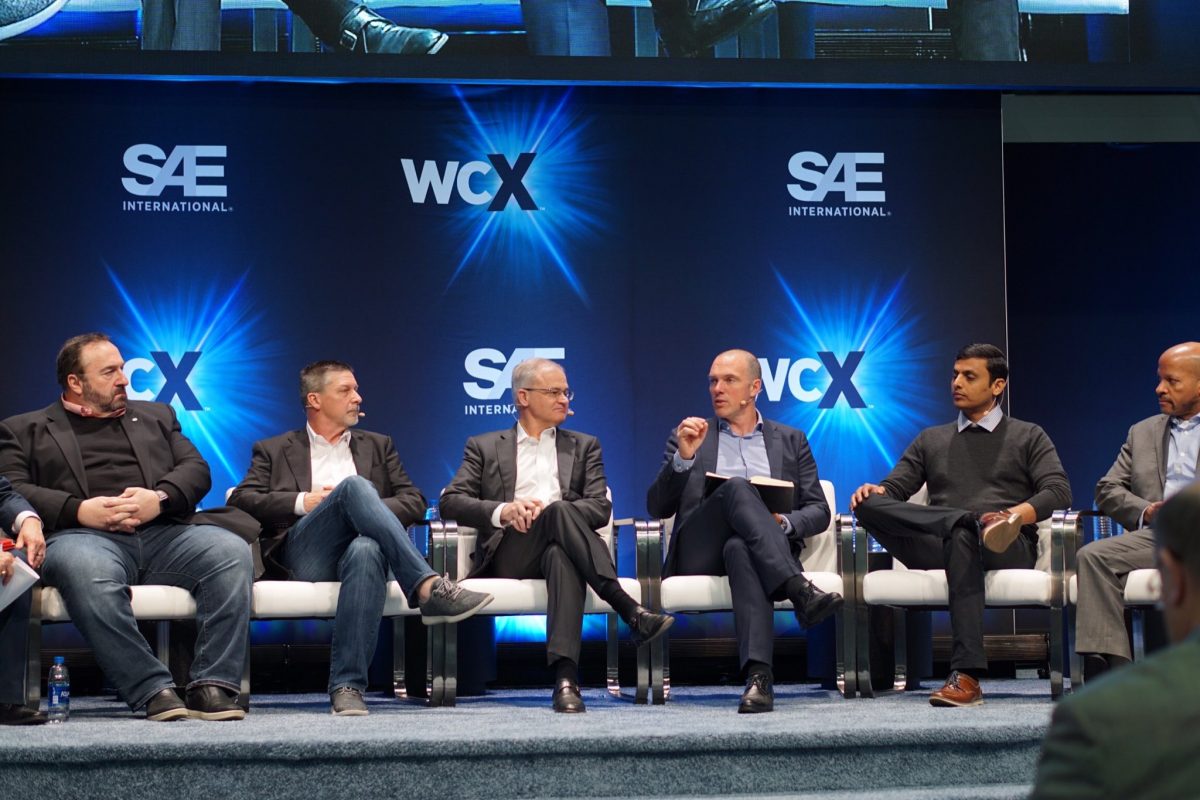 12/04/2019
5GAA promotes C-V2X technology safety and commercial readiness at SAE World Congress Experience
DETROIT, 11 April 2019 – The 5G Automotive Association highlighted both the safety and commercial readiness of the 'Cellular Vehicle-to-Everything' (C-V2X) communication technology during two learning labs sessions and one round-table at SAE World Congress Experience. As a celebration of the recent MoU signature with the OmniAir testing consortium, WCX participants also had the opportunity to discover the testing equipment that enables C-V2X interoperability at the 5GAA networking lounge.
'Cellular Vehicle-to-Everything' (C-V2X) technology is synonymous with safety, and is ready to be commercially deployed. These were the main messages from the 5G Automotive Association (5GAA) at SAE World Congress, which took place 9-11 April 2019 in Detroit (US).
5GAA representatives from member companies Ford and Panasonic animated two sessions, highlighting the unique benefits of the technology for improving road safety, traffic efficiency. They explained C-V2X role as a key enabler for supporting automated driving whilst strongly emphasizing its technological maturity and commercial readiness.
C-V2X readiness was also reinforced at the 5GAA roundtable on 'Cloud and Car Enabled Digital Services', moderated by 5GAA Board member Jim Misener, Senior Director and Global C-V2X Ecosystem Lead at Qualcomm. "C-V2X is all about connecting vehicles with information that is essential for increasing safety and improving traffic flow. Basic safety and advanced driving services communicate between devices with other vehicles, pedestrians and roadside, while many other data exchange and services are supported by the cloud and edge infrastructure using the 4G/5G cellular data network. This is the right combination that will trigger viable investments" said 5GAA CTO Maxime Flament, who took part in the debate.
During the congress, numerous 5GAA representatives gathered at the association's networking lounge to meet with the CTO to exchange views on the key takeaways generated during the panel sessions. The recent MoU signature with the OmniAir testing consortium, a leading industry association promoting interoperability and certification for connected vehicles, was also celebrated.
C-V2X interoperability Tests – Simultaneously Showcasing in the US and Testing in Europe
5GAA showcased the Rohde & Schwarz C-V2X Testing Equipment at its networking lounge during the SAE World Congress. While participants in Detroit could get a glimpse on how this equipment works; the first 5GAA Plugfest – a multi-vendor interoperability testing event – was taking place using the same equipment in Germany.
The interoperability event took place on the testing grounds of 5GAA Member DEKRA in Klettwitz (Germany) and involved several different C-V2X technology vendors including Cohda Wireless, Commsignia, Samsung Harman, Huawei, Neusoft, Qualcomm, Savari, and Vodafone Automotive. Keysight testing equipment was also used in the tests.
Overall, the test provided valuable insights into the maturity and market readiness of C-V2X technology, as interoperability between devices is the key to unlocking the benefits of Connected Vehicles. It also demonstrated the common high-degree of maturity and convergence amongst the technology vendors delivering C-V2X Communications. This test event, along with the IMT-2020 event in Shanghai in November 2018, is part of the final stages of 5GAA's pre-deployment activities. This underscores the current maturity of cellular-based LTE-V2X, which will soon be available to drivers worldwide given the right regulatory environment and market conditions. 5GAA member Ford's recent announcement about their plans for in-vehicle C-V2X deployment both in China and the US is just one testament to this fact.
With this week's activities in the US and Germany, 5GAA continues promoting C-V2X as a future proof technology that allows faster, and more accurate and reliable communications.
About 5GAA
The 5G Automotive Association (5GAA) is a global, cross-industry organisation with 110 members working together to develop end-to-end solutions for future mobility and transportation services. The organisation is committed to helping define and develop the next generation of connected mobility for advanced driving and automated vehicle solutions.
For more information, visit 5GAA's website, LinkedIn and Twitter pages.
Contact
Marketing and Communications Team
Email: marcom@5gaa.org