Past events
5GAA online session on Global MEC technology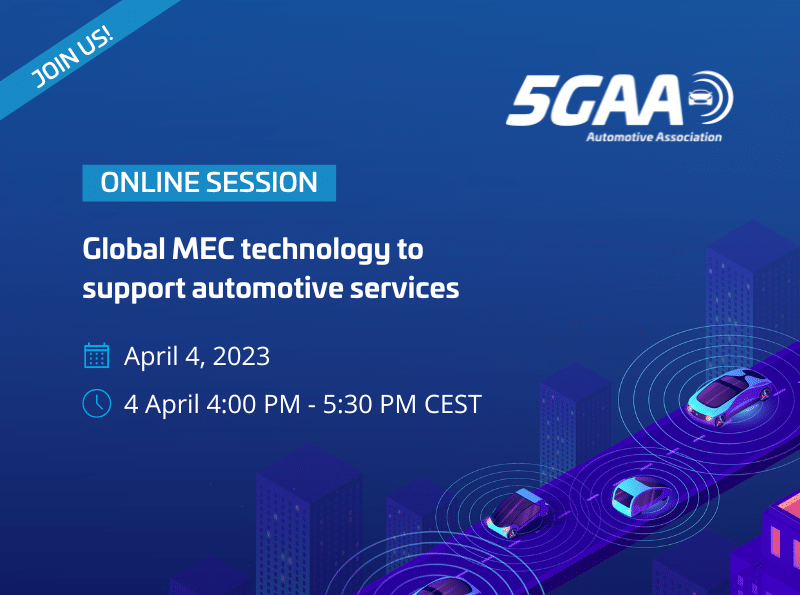 5G Automotive Association is pleased to invite you to our online session, "Global MEC technology to support automotive services", taking place on April 4th from 4:00 to 5:30 PM (CET).
The 5GAA approach to MEC (Multi-access Edge Computing) technology for automotive services follows car industry needs to consider multi-operator, multiple car maker, and multi-vendor scenarios.
In order to support global MEC deployments, 5GAA started working since 2019 on this area by targeting live trials to easily demonstrate MEC applications and use cases in those scenarios of interest (MEC4AUTO approach).
This webinar will provide a comprehensive overview of the many recent activities in this field, including architectural insights inspired by live trials implementations with 5G networks, interoperability and testing aspects, business and market considerations, but also technology aspects, standardization impacts, usage of edge predictive analytics, network slicing and cybersecurity aspects for the targeted scenarios.
Attendants of the webinar will get an updated view of real-life issues related to global MEC deployments, both from technical and business perspectives, together with an anticipation of future 5GAA activities in this field.
Watch the recording here.
Download the presentation here.