5GAA Showcases Cutting-Edge C-V2X Technology, Pioneering the Future of Vehicle Connectivity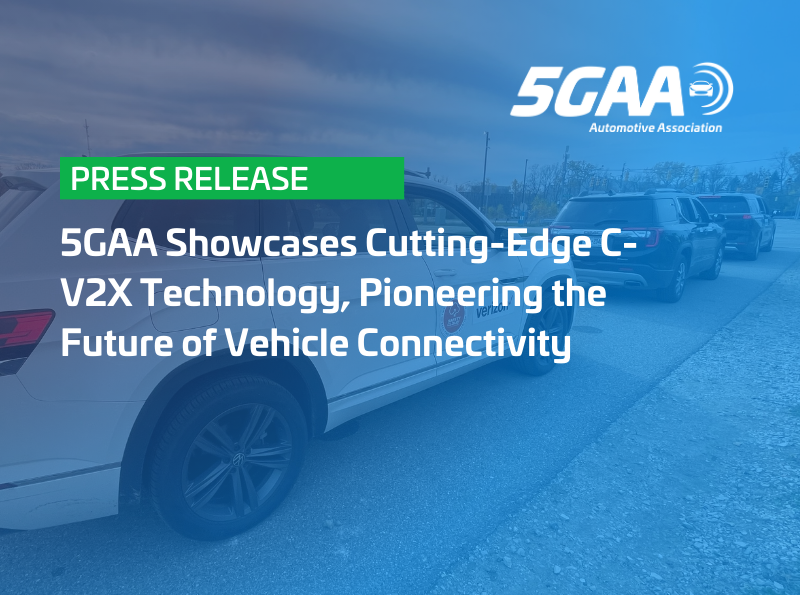 Detroit, October 26th, 2023 — The 5G Automotive Association (5GAA) welcomes you to an exciting display of cutting-edge innovation at the forefront of vehicle connectivity. The event, held at the Mcity Test Facility at the University of Michigan in Ann Arbor, featured a series of live demonstrations and a static showcase that underline the potential of C-V2X technology in making our roads safer and our journeys more secure.
Our live demonstrations are designed to present ready-to-deploy applications that rely on seamless communications, service interoperability, real-time safety enhancements, and driving assistance. These showcases will immerse you in real-life scenarios, both on-track and on open roads, highlighting the remarkable capabilities of Cellular Vehicle-to-Everything (C-V2X) direct communications and mobile network communications. From real-time collision warnings to lane merge notifications, curve speed alerts on open roads, and Vulnerable Road User (VRU) protection in urban environments, our demonstrations underscore our unwavering commitment to making our roads safer and our journeys more secure.
"In the fast-paced world of vehicle connectivity, 5GAA is at the forefront, showcasing the immense potential of C-V2X technology", said Maxime Flament, 5GAA CTO. "We are dedicated to making our roads safer and our journeys more secure. The live demonstrations and showcases in Detroit reflect our commitment to reducing road fatalities and creating a smoother, safer driving experience for all road users." 
Highlights of the Event:
Day One Safety Benefits of C-V2X Direct
Organized by Qualcomm, Commsignia, and the University of Michigan Transportation Research Institute, this immersive experience will showcase vehicle connectivity first-hand. Equipped with an onboard unit (OBU), the vehicle will demonstrate several safety benefits of C-V2X (Cellular Vehicle-to-Everything) direct communication from day one leveraging Roadside Units (RSUs). As the vehicle navigates the road, the driver will receive various warning messages, including:
> Real-time alerts for forward collision and electronic emergency brake lights.
> Notifications to merge lanes when approaching a construction work zone.
> Curve speed warnings in open-road environments.
The technology is primarily focused on critical safety scenarios to reduce road fatalities. It serves as a testament to the possibility of achieving a smooth and secure driving experience for all road users.
Interoperability of VRU Protection Services via Network Connection
In recent years, members of the 5GAA have collaborated to research, examine, and test potential solutions aimed at improving the safety of Vulnerable Road Users (VRUs). Our collective efforts will demonstrate the compatibility of various VRU protection services through a live showcase. During this demonstration, organized by Anritsu, Bosch, Commsignia, Keysight, T-Mobile, LG, and Verizon, participants will have the opportunity to receive safety messages, such as alerts, which are transmitted to vehicles in advance to alert drivers about the presence of pedestrians nearby. These alerts are delivered efficiently via mobile network communication with minimal latency, thanks to innovative technologies like Multi-access Edge Computing (MEC). Furthermore, through a "digital twin" with advanced software modeling, participants can witness first-hand how network planning and performance can be estimated. Various network Key Performance Indicators (KPIs) will be closely monitored to ensure optimal performance for VRU safety applications.
Authentication as a Service (AaaS) – Static Showcase
At the core of Verizon and LG's presentation lies AaaS, a dynamic platform built on industry standards. This platform plays a crucial role in managing the security lifecycle of V2X (Vehicle-to-Everything) communication by offering:
> Provisioning of new services and information.
> Operational functions, including activation, detection of misbehavior, safety-enhancement systems, and intelligent filtering.
> The capability to revoke access in the event of network security threats.
The presentation showcases a V2N2V (Vehicle-to-Network-to-Vehicle) scenario, where Basic Safety Messages are transmitted via the Verizon 5G network from the vehicle to the vRSU (Virtual Roadside Unit), integrated within Verizon's Multi-Access Edge Computing (MEC) infrastructure. These messages are then routed back to the vehicle.
This system protects the confidentiality of your data meeting the end-to-end latency requirements.
Smart City and Connected Infrastructure using Uu-based Solution
Verizon and HAAS Alert are showcasing a display of "connected safety" digital alerting examples.
While the network-connected demonstration vehicle navigates the track, it receives messages from the cloud, which are shown on the infotainment screen well in advance. This gives the driver a foresight window of 15-20 seconds before encountering any possible hazards.
Passengers will encounter the following scenarios:
> An approaching emergency vehicle
> An upcoming active School Zone
> An alert for a pedestrian crossing
We invite you to join us on this remarkable journey to experience the benefits of connected vehicles. Together, we have the potential to reduce road fatalities and create a smoother, safer driving experience for all.
About 5GAA
The 5G Automotive Association (5GAA) is a global, cross-industry organization of over 120 members, including leading global automakers, Tier-1 suppliers, mobile operators, semiconductor companies, and test equipment vendors. 5GAA members work together to develop end-to-end solutions for future mobility and transport services. 5GAA is committed to helping define and develop the next generation of connected mobility, automated vehicle, and intelligent transport solutions based on C-V2X. For more information, visit our website.
About the University of Michigan
The University of Michigan is one of the nation's top public universities, and has been a leader in research, learning and teaching for more than 200 years. It is home to several research centers focused on mobility and transportation. Mcity is a public-private mobility research partnership led by U-M and operates the Mcity Test Facility, a purpose-built, real-world environment for testing advanced mobility vehicles and technologies. The U-M Transportation Research Institute is one of the largest research institutes at U-M and a partner of choice for industry leaders, foundations, and government agencies. The Center for Connected and Automated Transportation, based at UMTRI, is the U.S. Department of Transportation's University Transportation Center for the Midwest region. 
Media Contact
Raluca Tarcea
Communications Manager