5GAA releases updated white paper on C-V2X Deployment Timeline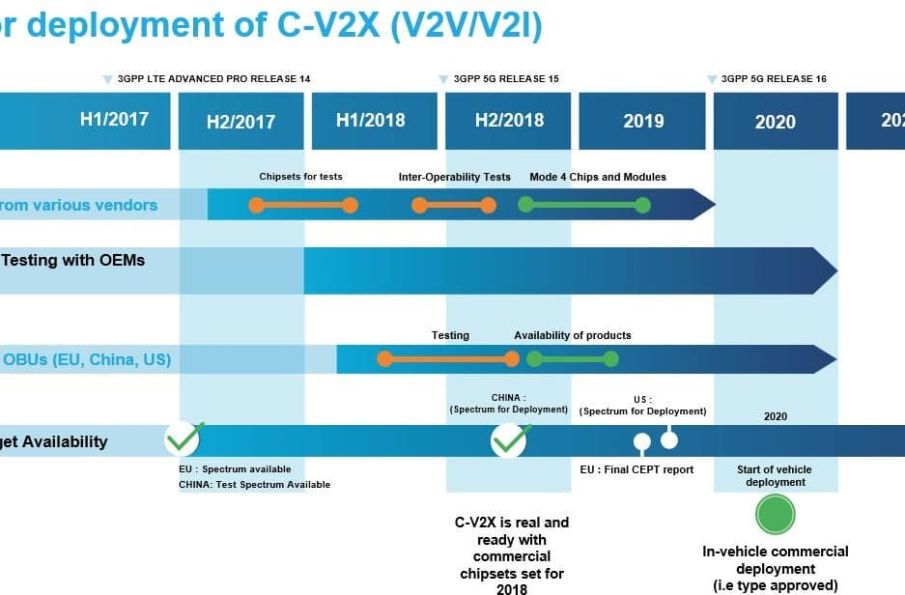 In December 2017 5GAA published the white paper "Timeline for deployment of LTE-V2X (V2V/V2I)" focusing on the introduction of direct communications with LTE 3GPP Rel.14. Since then Cellular-V2X (C-V2X) has gained a lot of momentum in the eco-system and we are at the verge of deploying the next generation of mobile network technology – 5G.
This updated timeline of the introduction of C-V2X covers the following topics:
The extended use of V2N for safety-oriented services in vehicles deployed on the roads
The comprehensive test and evaluation activities undertaken by the ecosystem consisting of OEMs, tier-1s, chip vendors, road operators, mobile operators as well as their suppliers and test equipment providers
Outlook on the evolution towards 5G including backward compatibility
C-V2X use cases for railways and respective test activities
Progress on regulatory aspects
The inclusion of 2G, 3G and 4G cellular communication technologies (V2N – Vehicle2Network) into vehicles (i.e. "Connected Cars") has been extremely successful in delivering benefits for the vehicle, the driver, the automaker and other participants in the transportation and emergency services ecosystem.
At present, more than 100 million Vehicles connected to cellular networks (V2N) are on the roads.  This V2N connection is used for a wide variety of services including telematics, connected infotainment, real time navigation and traffic optimization, as well as for safety services including automatic crash notification (ACN) such as eCall, the recognition of slow or stationary vehicle(s) and informational alerts for events including traffic jams, road works and other traffic infrastructure related information, inclement weather conditions and other hazardous conditions. Several OEMs[i] share safety related warnings between their vehicles and have started to exchange this information across OEMs using e.g. services from HERE Technologies. Other initiatives to share information by interconnected backend systems are the EU financed projects 'Nordic Way', Talking Traffic' and the 'Drive Sweden projects. These projects also interconnect Road Traffic Authorities, Road operators, OEMs and smartphone applications to share traffic related info. The current understanding, also based on the European C-ITS Platform Final Report, is that the nature of these warning messages is informational, and the driver is always responsible.
C-V2X is a recent term introduced for cellular technologies optimized for transportation and connected vehicles. In particular, the C refers to both 4G LTE and 5G NR (new radio) releases of specifications, whereas X refers to multiple things' vehicles may connect with. C-V2X includes both network-based communications that have been in use for decades, such as vehicle-to-network (V2N), as well as a new complementary mode of operation first defined in the 3GPP Release 14 specifications and approved in June 2017, which allows direct communications between vehicles (V2V), as well as between vehicle and road side infrastructure (V2I and I2V) without requiring any cellular network coverage or subscription. It can further support vulnerable road users (e.g. vehicle to pedestrian, or V2P) by integrating the direct communications technology into mobile and other devices. The direct communications functionality is used to specifically support safety critical services to reduce collisions, support automated driving, and improve traffic efficiency. LTE-V2X is the 3GPP nomenclature for direct communications as specified in releases 14 and 15, whereas 5G NR-V2X is from Release 16 onward. 3GPP R14 also added network communications improvements, delivering increased data volumes, managing greater scale of connected devices, and can further reduce latency and provide for higher levels of reliability in V2N.  V2N is also technically known as Uu and refers to an endpoint such as a vehicle communicating with network infrastructure over operator licensed spectrum, whereas V2V/V2I/V2P is supported by direct communications operating on the ITS spectrum (e.g. 5.9GHz) and is known technically as PC5.
Click here to read the full version of this updated White Paper.
[i] https://www.autoblog.com/2018/05/07/volvo-cars-volvo-trucks-share-data/?guccounter=1#slide-7324246