5GAA at MWC Barcelona 2022 "Turning Connected and Safe Mobility into Reality" | Conference material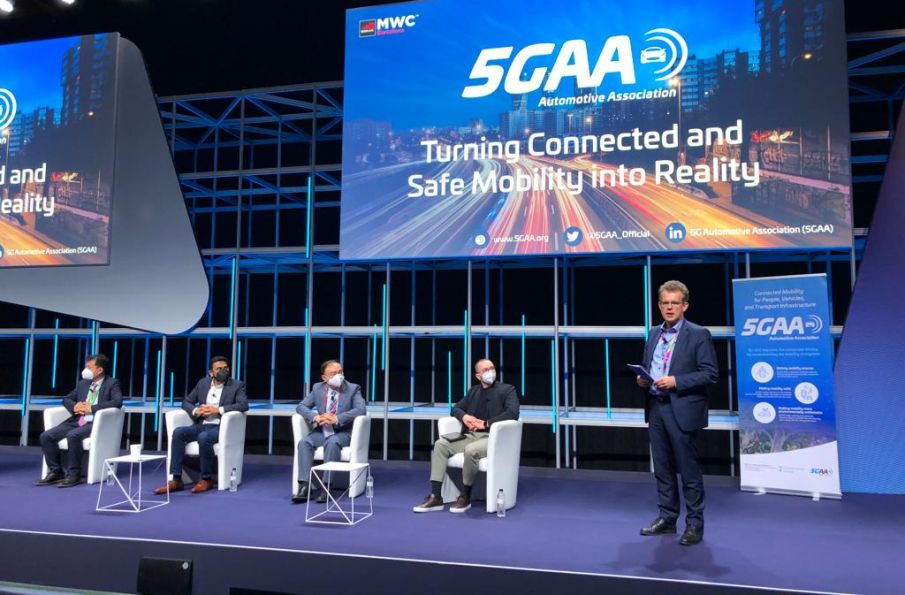 On 2nd March, 5GAA experts and member spokespersons shared their views on how the deployment of C-V2X technologies is turning connected and safe mobility into reality from now and in the next few years, during the conference "Turning Connected and Safe Mobility into Reality" at the Barcelona edition of GSMA's Mobile World Congress.
The conference, moderated by Freddie Holmes, Special Correspondent at Automotive World, offered an overview of the broad-scale improvements that connected mobility can bring to the global automotive system, starting with a first session on the 5G-V2X deployment landscape in different regions, such as Europe, China, and the US. Speakers underlined the need for increased ecosystem cooperation and cross-border projects to ensure reliable access to 5G networks to all users. The second session focused on the safety aspects and benefits brought by the technology, including protecting vulnerable road users.
The event concluded with an insightful panel discussion on mobility data, with the participation of representatives from the entire ecosystem value chain. Panellists discussed how smart cities and infrastructure could help make data-driven decisions that inform how we pave the path for the future of mobility and the crucial role of data standardisation and reliability and new business models to foster investments.
The event welcomed, in person or through virtual messages, high-level representatives of 5GAA's member companies Deutsche Telekom, Verizon, China Mobile, Harman, Continental, Telefonica, Qualcomm, BMW, Huawei, Intel , ZTE, Stellantis.
In case you didn't have the possibility to attend the conference in Barcelona, here you can find some of the insightful materials presented by our members.
Bringing 5G Consumer Experiences to Automotive Industry At Scale
Ramaswamy Iyer, Senior Vice-President and Head of Connectivity SBU, Harman
Vishnu Sundaram, Senior Vice President, Stellantis
5G + C-V2X: Pave the way for C-ITS and Auto-Driving
Xu Ling, Standard Director, ZTE
China overview
Wai Chen, Chief Scientist, China Mobile

Presentations:
The Digital Guardian Angel -A Cellular-assisted VRU protection solution
Frank Foersterling, Head of Government, Liaison & Engagement, Continental
Driving the Smart Mobility Revolution
Leticia Lopez Domingo, Technology Innovation Expert, Telefonica

5G capabilities as a game changer for automotive connectivity
Dennis Nikles, Vice-President IOT, Deutsche Telekom