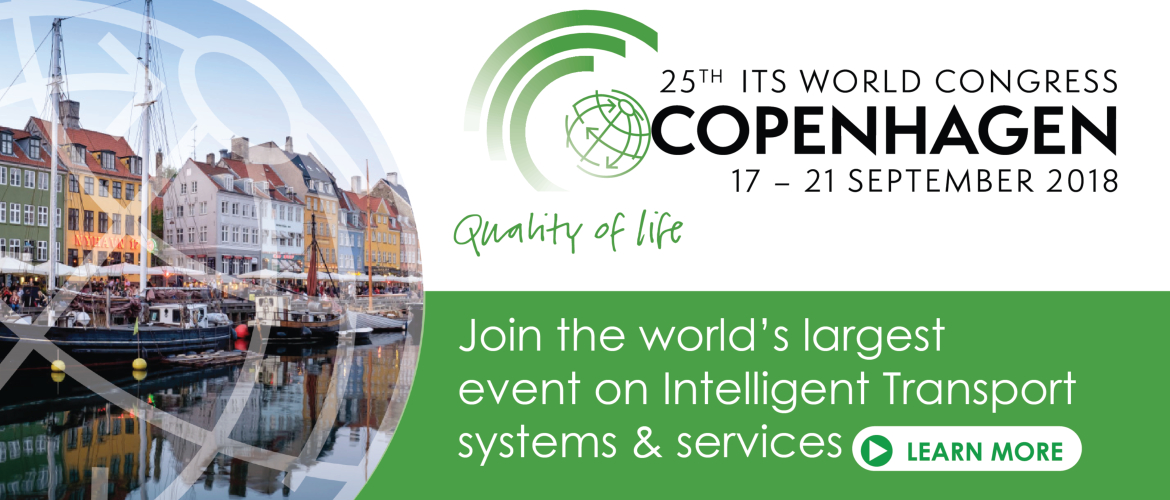 03/09/2018
5GAA Participates in ITS World Congress Copenhagen | 17-21 September 2018
The ITS World Congress will take place on 17-21 September in Copenhagen, Denmark. The congress is expected to welcome up to 4000 participants including business managers, researchers, developers and international decision-makers.
5GAA will take an active part in the Congress in various activities including:
17 Sept – LMT Workshop titled "Connected Europe – Green Transportation in 5G era" organised by LMT with the partnership of 5GAA
18 Sept – A dedicated 5G Special Interest Sessions (SIS 17) titled "Evolution from current Automotive connectivity and its deployments to 5G and 5G V2X" with members: Tim Leinmueller, DENSO, Roger Berg, DENSO, Johannes Springer, Deutsche Telekom AG, Takehiro Nakamura, NTT DOCOMO, Cameron Coursey, AT&T, Stefano Sorrentino, Ericsson, Jovan Zagajac, Ford, Jim Misener, Qualcomm
18 Sept – A Special Interest Session (SIS 35) titled "Strategy of the practical implementation of V-I cooperative systems for traffic accident avoidance" with 5GAA CTO Dr. Maxime Flament.
17-20 Sept – 5 Special Interest Sessions (SIS 02, 36, 49, 54, 84) in which members are invited to present 5GAA during their speech
18 Sept – Plenary 1  with Keynote Speaker Veni Shone, Huawei, who will include a presentation of the association's mission and achievements during his keynote
20 Sept – Ertico Workshop titled "The role of 5G in Automation", with the participation of several 5GAA members as speakers in the agenda
In addition to the list of impressive high-level speaking sessions, the association will also be represented in the exhibition area via members' exhibition stand. You are invited to visit for eg. the 5GAA dedicated space on the Huawei stand number E-083.