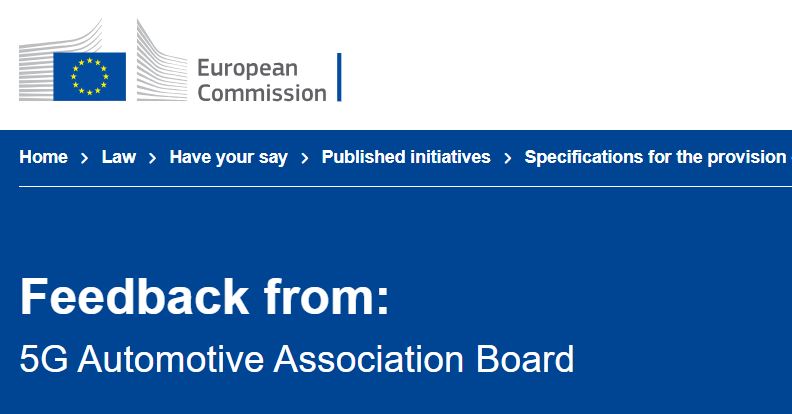 11/02/2019
5GAA board submits feedback on the C-ITS delegated regulation proposed by the European Commission
The 5G Automotive Association (5GAA) board took part in the public consultation launched by the Directorate General Directorate-General for Mobility and Transport (DG MOVE) of the European Commission on the C-ITS delegated regulation.
The consultation has 100 comments from individuals, associations and companies. In fact, some 5GAA members have submitted their own feedback. The variety of comments proves that there are clearly opposing positions regarding this regulation.
Concretely, in the submitted feedback, the 5GAA board calls upon the Commission to:
Amend the draft Delegated Regulation to include LTE-V2X both short-range and long-range communications, via the related ETSI approved specifications and profiles on an equal footing with ITS-G5;
Define interoperability as a "mutual" requirement among mature C-ITS technologies, namely ITS-G5 and LTE-V2X for short & long-range communications;
Avoid legal uncertainty on the "fast-track" update process by:
– Introducing a 6-month deadline for the Commission to make its decision publicly known as regards the initiation of an amendment procedure to include new technologies (e.g., 5G-V2X) or new C-ITS services;
– Specifying clearly the terms, conditions and processes for the inclusion of other technologies (e.g. 5G-V2X) or C-ITS services, including unambiguous definitions of terms such as "existing", "maturity" or "migration path", etc.;
– Include as an Annex to the Delegated Regulation a template for the "technical file" to be submitted;
– Open up participation in the future C-ITS Expert Group to representatives of technology segments that are not within the scope of the draft Delegated Regulation today.
We note that all elements required in the proposed process for updating the draft Regulation are already met by LTE-V2X:
– All required profiles/technical specifications for LTE-V2X have been adopted by European SDOs;
– Multiple vendors have already commercialised LTE-V2X short-range hardware and software solutions in Q1 2019 (and more are announced for Q2 2019);
We also underline that many of the C-ITS priority services listed in Annex I of the draft Delegated Regulation have already been implemented using 3G and 4G (LTE) cellular networks for long-range communications (e.g. traffic jams, weather conditions, road works, etc.). Yet, this reality is not accounted for by the draft text which still only foresees the initial deployment of these services exclusively via ITS-G5 for short-range communications.
Read the full feedback submitted by the 5GAA board here.