5G Automotive Association (5GAA) and the European Space Agency host the "Connectivity for the Car of the Future Symposium"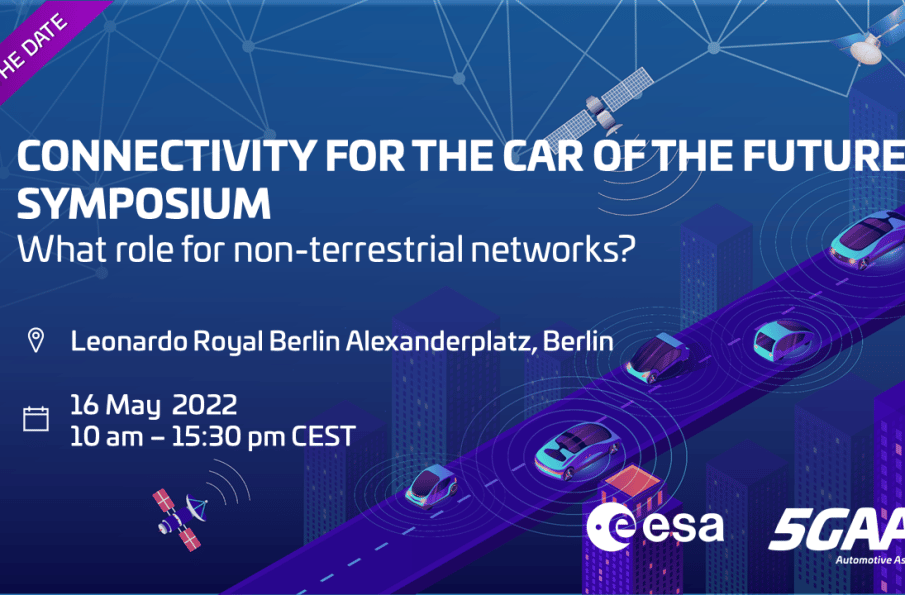 Connectivity is a prerequisite for the digital transformation of the automotive sector. Road safety, navigation, efficiency, emission reduction and many other applications will not be possible in its absence. To this end, the development of non-terrestrial networks (NTNs) will play a crucial role to promote ubiquitous and high-capacity global connectivity.
On May 16, the 5G Automotive Association (5GAA) will host the Connectivity in the Car of the Future Symposium, an event organised in collaboration with the European Space Agency (ESA), to discuss how space technology can offer services for the future of mobility. The event will take place at the Leonardo Royal Berlin Alexanderplatz from 10 AM to 3:30 PM CEST.
                                                                              Registrations are open here
Adequate connectivity to enable the car of the future is a challenge. The reliability of the network is also key, particularly in remote areas. Some rural or remote regions still experience no or poor broadband coverage. Satellite connectivity complements terrestrial solutions in white spots, as well as in case of outages and congestion. Satcom must be part of the technology mix.
The competitiveness of both automotive and space telecom European industries will depend on it. In the absence of European capabilities, assets and capacities in this field, the future industrial sovereignty of car makers may be called into question.
The Symposium will gather industry representatives of car OEMs, connectivity providers and institutional decision-makers to discuss mobility-related technology and innovation trends, socio-economic challenges and business models on the one side, and the state-of the-art and future ambitions satellite and terrestrial connectivity.
Together they will map opportunities for space technologies to offer solutions for the car of the future.
If you have any questions, please get in touch at marcom@5gaa.org 
Download the agenda here